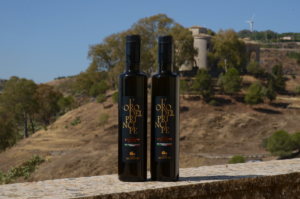 L'Oro del Principe embodies itself all the characteristics of Sicilian extra virgin olive oil: the view shows a bright green color with golden highlights.
On the palate exudes a rich and tasty flavor, austere and elegant with a medium-intense fruity flavor and a good balance between bitter and spicy (essential characteristics of a good extra virgin olive oil) with persistent green tomato notes and chopped herbs and almond on closing that leaves a perfect balance in the mouth, confirming its Sicilian origins.
Analysis: together with the organoleptic characteristics of the oil, are made all the analysis required by current regulations to measure the degree of acidity, the number of polyphenols, the peroxides and the stability index.
In order, therefore, to enhance the all components of the territory has been decided to create a blend with the best cultivars of Calatine lands.
The production site lies in an area traditionally linked to the production of extra virgin olive oil and included in a protected designation of origin area "Monti Iblei" subzone Trigona Pancali.
"L'Oro del Principe" is Sicily IGP(Protected Geographical Indication) certificate, awarded only to those products that demonstrate a strong manufacturing tradition, an inseparable link with the territory of origin and an adequate socio-entrepreneurial fabric that allow the achievement of high quality standards. In fact, the early harvest, early veraison olives, carried out strictly by hand, the speed in the transfer and in milling and storage according to the highest standards possible to obtain a product that preserves the aromas, taste and quality Tasting of olive juice just made to give diners a unique sensory experience.
The Extra Virgin Olive Oil "L'Oro del Principe" is an Artisan oil. The process of oil production of Craftsmen Crushers is different than the industrial processing system, because checked and certified in each step, from olives to the bottle.
Control over compliance with this specification is done by the inspection body, as established by the relevant Community regulations. The chosen control organization is the Regional Wine and Oils institute with headquarters at Via Libertà 66 (90143) Palermo