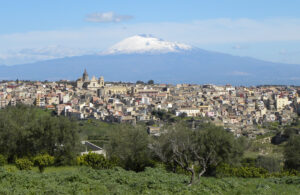 The territory of Militello in Val di Catania, until 1861 Militello in Val di Noto, municipality of the metropolitan city of Catania is located on the northern foothills of lblei mountains at a height of 413 meters above the sea level.
The territory is made up of a typical lblei Monti calcareous substrates with outcrops of ancient basaltic lava clearly visible at the entrance south of the country, at the "Gorge Calcarone" which gives to the soil characteristics unique.
Land of long agricultural traditions benefited from the hillside location and the quality of the soil where long dwell the prickly pear, pride of local farmers, citrus orchards , the result of wise grafts , and olive groves ,  made from ancient plants and recently built facilities.
The typical Militello kitchen, characterized by a love for their land and the strong link with the roots is characterized by products grown and harvested in their territories. Among these unique products, it ranks among the excellences extra virgin olive oil.
"If, in addition to quality products and good food you love the culture, places of art and history We invite you to visit our country and the extraordinary wealth that characterizes it. A heritage that we wish to preserve, develop and introduce you to! "